I wanted to do a post with 25 paid patterns for Christmas Stockings, but I didn't find so many I would like. There're enough stockings with multiple colors, but not enough with cables. I believe I was on the same bath last year…
Trouble is – I can't put my wish in words… I just know, when I see it. Hard, I know.
My dream Christmas stocking needs to have some awesome cables and a bit of lace. It needs to be chunky and soft. With the homey feel and cozy look…
If you find something like this, let me know 🙂
Meanwhile, I found some VERY fun patterns I would gladly pay for (and I probably will; I have to end my current projects first…but that would be a post for next week), and I thought you might enjoy those too.
Here's a list – click on the picture, and that will take you to the pattern page…
---
1.
Vintage Fisherman Christmas Stocking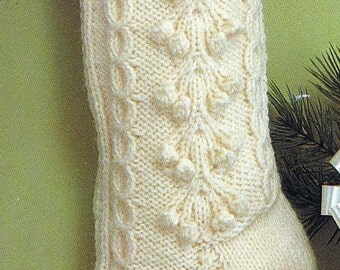 ---
2.
Christmas Tree Boots
---
3.
A Nephew's Christmas Stocking
---
4.
Icicle Christmas Stocking
---
5.
Xmas Tea Cosy
(I absolutely LOVE that…I need to get a tea pot first though…)
---
6.
Paw Stocking
(I could create this myself, but I would happily support the idea…I've never thought of this)
---
7.
Madras Plaid Stocking
(again…I would have never thought of this)
---
8.
Snow Bird Stocking
(I really love the "business" in the pattern)
---
9.
Christmas Gift Bag
---
10.
A Collection of Three Christmas Stockings
---
11.
Owl Christmas decoration
(look at that cuteness…can you really say you don't want him hanging on your Christmas tree?)
---
12.
Christmas Socks
(an actual socks…like real socks…I'm so knitting these for my husband, because I can (he's a Grinch, he would absolutely hate those, which makes it super fun for me and I have no idea why))
---
13.
Countdown to Christmas
(I'm too late for that but for next year maybe)
---
14.
Hearthwarming Stockings
---
15.
Сouple of Gnomes
(I need those too)
---
16.
Felted Sweater Stocking
---
17.
Christmas Dream
---
18.
Christmas Argyle
---
19.
Oh Christmas Trees
(I love those green ones)
---
20.
Mix-It-Up Christmas Stocking TEXTURED
---
21.
Holly, Ivy and Steve Three Christmas Hooligan Ornaments
(I also need those)
---
22.
Snowflake Christmas Stocking
---
23.
Big Bang Theory Penny's Christmas Santa Slouchy
(I need a hat to wear while I knit all those things)
---
24.
Christmas Flower
---
25.
BO Rabbit
(Actually, I just went back to that pattern and bought it, so if you'd like me to do a review before you buy it, let me know)
---
That's it. 25 new ideas and no extra time. This is going to be fun 😀
Never miss a post or a pattern
Subscribe to get the latest + some extra
Make sure you'll check the SHOP section to see what's new!
(Visited 1,676 times, 1 visits today)